Taiya and Jordan tied the knot earlier this spring at the Riu Palace Costa Rica. It was the perfect destination for a couple who was looking for a place that was unique, lush, and tropical.
As a Destination Wedding Specialist, you often have to think quick on your feet when unforeseeable situations do arise. Taiya and Jordan's experience should be worth telling! This isn't your usual wedding feature.
This is a True Story of a Wedding that Almost Wasn't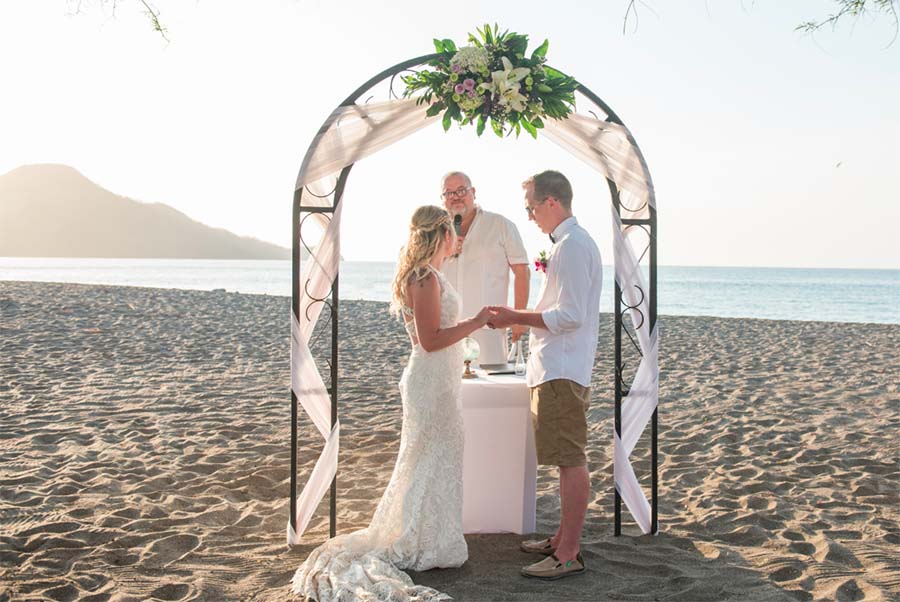 Taiya and Jordan reached out to me in February 2018. They were looking to discuss their destination wedding for the following Spring.
It was quickly established that their ideal location consisted of a more unique and off-the-beaten-path. This destination should also be easily accessible from Calgary. Ultimately, they chose the beautiful and lush destination of Costa Rica, with the iconic Riu Palace Costa Rica as their chosen all-inclusive wedding resort.
I booked all of their events for their wedding day at the Riu Palace Costa Rica and guests were all to travel. It was simply a matter of waiting until their departure date of April 2019 to celebrate the big day!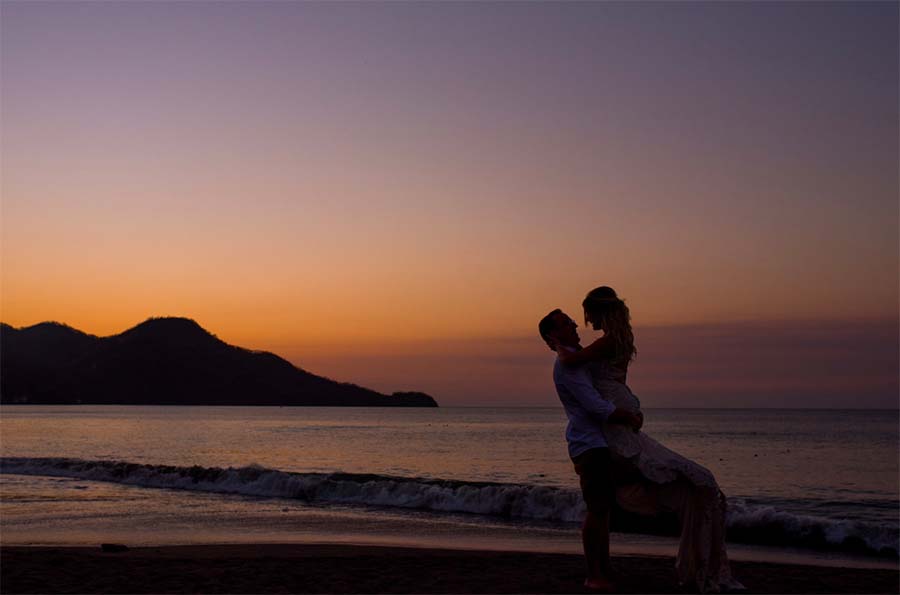 Exactly one month prior to the group's departure for Costa Rica, I received a message from the tour company that Taiya, Jordan and all guest flights were cancelled. There were no alternate plans offered for their travel dates…talk about making matters complicated!
I sat there, stunned, as I read and reread the words on the screen in front of me.
Is this real?
Am I being punked?
As with most situations like this, I kicked it into high gear. I MUST find a solution.
There is no alternative and this is the nature of what I do. I must call on my superhero powers to save the day!
The following days were a bit of a whirlwind. There were many emails, phone calls, stress, and tears as I scrambled to find an acceptable solution. Because, cancelling the wedding was definitely NOT an option!
To make matters a little more complicated for myself, I was on a personal vacation in Phoenix and in the midst of adopting a senior pup and dealing with all the arrangements that go along with that as well!
Because, as the saying goes: "When it rains, it pours!"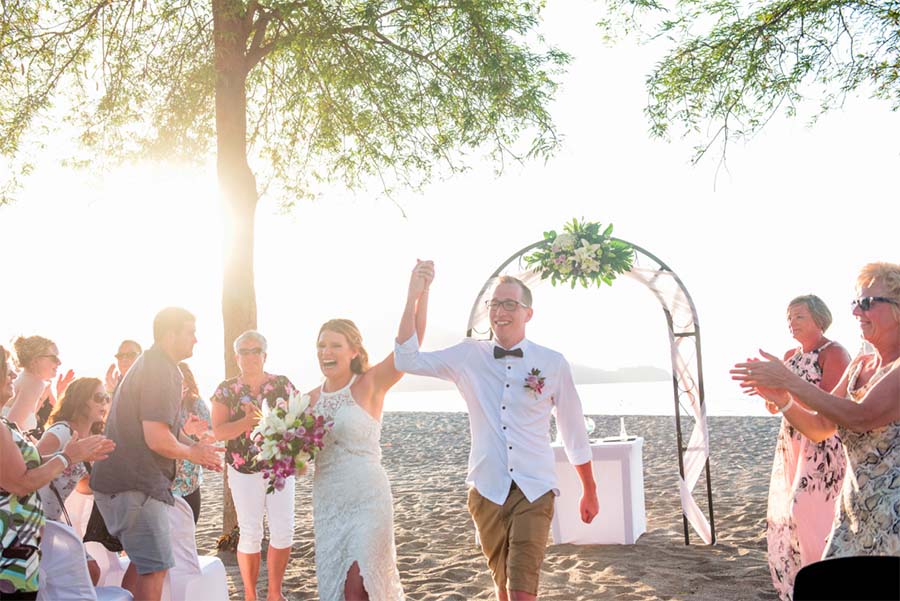 Amidst the flurry of chaos, Taiya and Jordan were DREAM clients. They put their trust and confidence in me and were able to suppress the panic I am sure they were feeling. Taiya and Jordan stayed calm and let me work whatever magic I needed to make things happen. They knew the end game was get themselves and their guests down to their wedding. No. Matter. What.
Now, you must be wondering how this whole debacle ends.
We managed to have all flights and travel arrangements rearranged, after two weeks of feverishly finding alternatives! Everyone had smooth and easy access to their travels in Costa Rica and the wedding was saved. On April 9, 2019, Taiya and Jordan tied the knot at the Riu Palace Costa Rica, with their closest friends and family surrounding them!
If this isn't what you call a fairy tale ending, I don't know what is!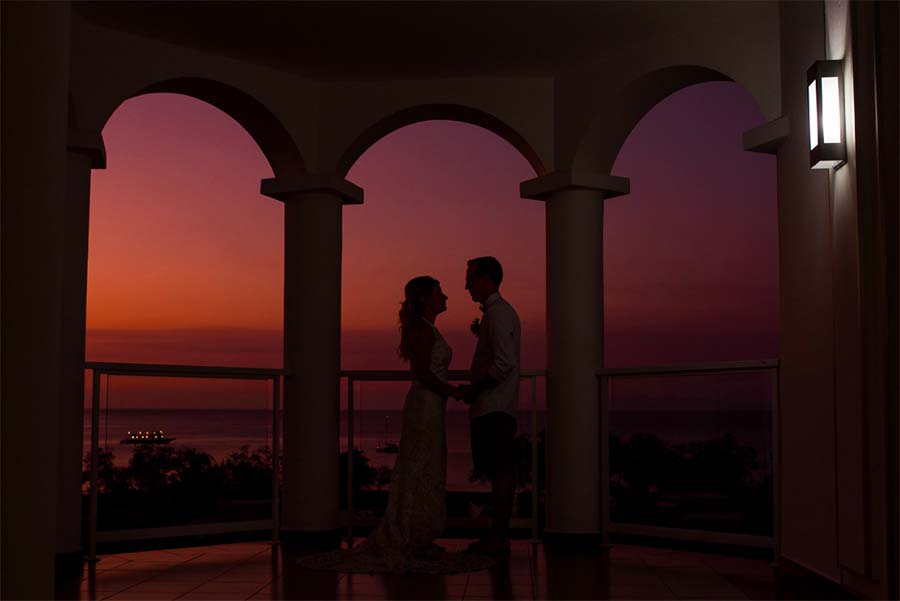 From the Wedding Couple:
"Thank you so much for how much time and passion you put into planning such a great trip for us and our family! Everyone had a great time, and we have you to thank for that. With all the chaos of the flights, it ended up working out as Jordan and I were able to get a bit of colour for the wedding! You eased the process for us and Jordan and I have said multiple times that we do not know what we would have done without you. Our wedding was beautiful, the Riu Palace Costa Rica was beautiful, and Costa Rica was beautiful!"
My heartfelt congrats to Taiya & Jordan, and a huge thank you to them both as well and all their wonderful friends & family for all their support & confidence as we worked through the craziness that ensued over the last month!
And lastly, a big shout-out to my partner Weddings by Escapes. Their support and assistance in getting things done on the back end, was a huge element in being able to pull off the big save!
(Photos courtesy of Sharing Life Photography)
Want more Destination Wedding Inspiration? Check out my last blog post as I discuss different Destination Wedding Styles!